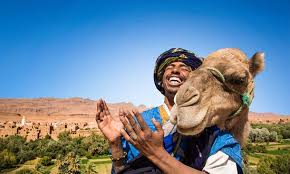 We'd love you to experience a country the way it really is, with people who live there and know it inside out
On The Go Tours are an award-winning provider of unforgettable travel tours and tailor-made holidays. From Egypt to Ecuador, Myanmar to Madagascar, we love helping you see the world your way. Whether you're after culture, adventure, or just want to kick back and relax, our outstanding local guides get you to the heart of your destination and deliver truly authentic experiences.
From grand palaces to historic temples, hot desert plains to snowy mountain peaks, cosmopolitan high rise to safaris at sunrise; we bring you the finest sights and
adventures
the world has to offer. Immerse yourself in a truly authentic local experience on one of our popular
guided group tours
which are a great choice for single travellers too, make a date with some of the world's most colourful festivals, take an unforgettable family adventure,
tailor make that dream holiday
or discover the pulse of the world's most exciting cities on our wide range of
day trips
.
With so many diverse destinations, there's no one-size-fits-all approach to touring. That's why we have an excellent variety of trip types and styles to choose from too. Our group tours offer popular itineraries ranging from short stays to two-week plus long adventures. Itineraries focused on one destination cover its main sights in depth, whereas our multi-country tours showcase the highlights across a certain region.
We balance guided sightseeing with plenty of free time to explore, so you can make the most of each destination. And there are many unique experiences to be had, from spotting the Northern Lights in Iceland to exploring the surreal landscape of Cappadocia in Turkey or camping under the stars at Wadi Rum in Jordan.
Travel is aboard modern, air-conditioned vehicles. Nights are spent in comfortable, 3-4 star accommodation, with a mix of hotels and unique properties used. Group sizes vary by destination but, with a range of ages and nationalities, our tours are designed to create a fun and social travel experience. Most tours have no single supplements, and for the few that do, we'll do our best to match you up with another solo traveler.
We'd love you to experience a country the way it really is, with people who live there and know it inside out. We know this makes the difference between a great holiday and a truly memorable one. Our carefully sought out English-speaking
tour leaders
and local guides are passionate about sharing their country with you and we believe that they are amongst the best in the business.
Ensuring our footprint is light and that the benefits of travelling reach the local communities you visit is paramount too. We're proud to say that when travelling with us, the large majority of your holiday funds remain within the countries you visit, supporting local economies at a grass roots level with our
sustainable travel policies
.
We know that time is precious, that travel experiences can lift us out of the everyday and so above all, we're here to give you a brilliant and unforgettable holiday.