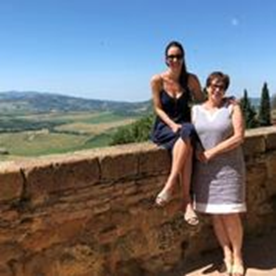 WHO WE ARE
It was 2008 when Tours of Tuscany bloomed from the heart and mind of Ines Fabris. Ines turned her dream into a reality, with her father born in Tuscany and a natural passion for the region, she was drawn back to her roots and aspired to share her passion with travellers wanting to experience the heart and soul of Tuscany.
In 2012 Ines' daughter, Monique joined Tours of Tuscany, together with her experience in event management/hospitality and their love for Italy and travel, Tours of Tuscany transformed into well-known and respected travel company. The mother daughter duo continue to share their knowledge of Tuscany with hundreds of travelers from all over the world.
Over the last 11 years Tours of Tuscany has flourished into a boutique travel company, offering its guests a genuine Italian experience. Tours of Tuscany have formed strong and respected partnerships with many local businesses. This enables guests to experience the true essence of Tuscany; with locals sharing their love, passion and knowledge with those who join them on an unforgettable journey through Tuscany.
THE TOURS
Small groups of no more than 12 make up our weekly tours of which are designed with 'structured flexibility' considering each individual in the group. This gives the traveller the ability to explore independently or remain as a group during the course of daily travels.
An excellent blend of stunning locations, culture, shopping, food, wine and relaxation are a part of each day creating a memorable experience for all, truly living the Tuscan way of life.
As the tour draws to an end, travelers will leave feeling they have ventured "off the beaten track" and experienced Tuscany through the eyes of a local. This is reflected in the numerous testimonials boasting the tour successes of Tours of Tuscany, who truly provide tours unlike any other.
We offer a variety of all-inclusive on land packages for 7 and 14 days. In addition to these we also offer the service of customising itineraries for groups or couples who would like to experience something different!
What are you waiting for? Get in touch now to start planning your clients next holiday to Tuscany!