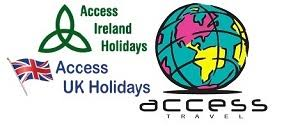 Welcome to Access Ireland & UK Holidays…your partner in travel
With combined experience of over 70 years in the travel industry, our expertise is highly regarded by the travel agents who come to us for specialist advice.
Established in 1999 with an exclusive focus on Ireland, our range has expanded over the years to include the UK in 2002, and now throughout Europe. After years working in Europe as a Tour Guide and Operations Manager, Nicky Ross has established relationships with several high-quality local operators, with whom we collaborate to provide the "right fit" for your clients.
We like to say that we partner with our travel agents. Because of this, we are rewarded with a loyal following from all over Australia across all travel agency brands…agents who return to book with us time and again regardless of their own preferred products. Initially they come to us for advice on Ireland, and we become their travel wholesaler of choice.
Why? Because we are not an "off the shelf" style of wholesaler. We have some smaller packages designed to be booked either independently or together with other packages on a mix and match basis, but the most important aspect of our role is to match client's expectations with products and services.
So, we ask lots of questions…. we want to ensure that we learn more about you, your clients and what they

REALLY

want to see, do, taste, smell and experience on, what for many, is their holiday of a lifetime.
We are based in the sunny bayside suburb of Cleveland, on Moreton Bay in Brisbane, but we're only a phone call or email away.
We can't wait to meet you.